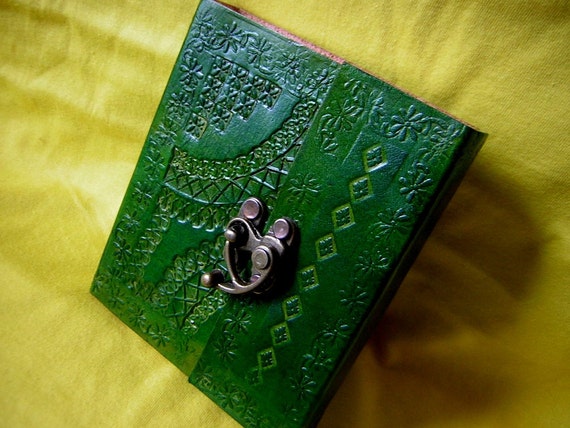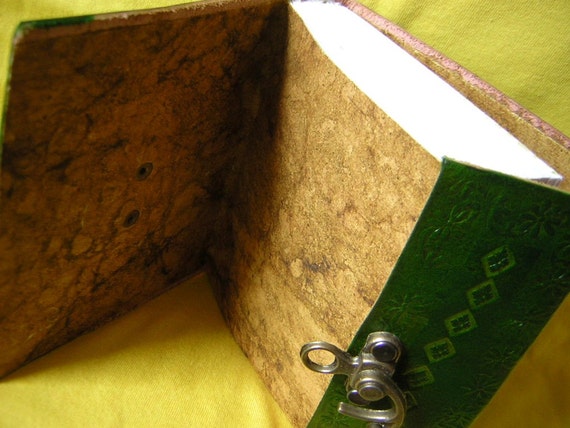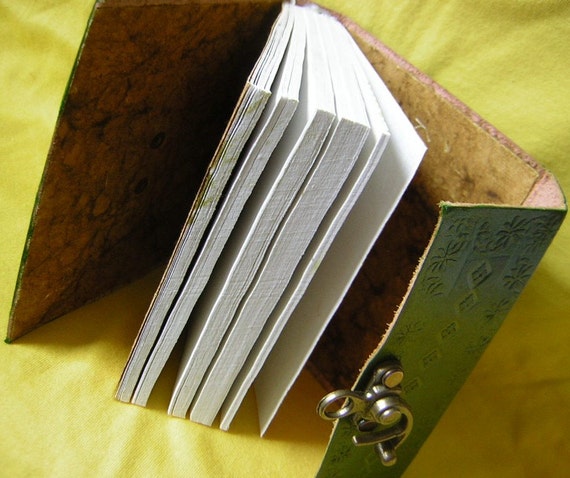 This absolutely beautiful leather journal notebook is 100% handmade!
Comprising of approx 90 double-sided pages that are acid-free and handmade out of recycled cotton fibres and waste paper, so no trees have been chopped down to make them! You can use a ballpoint pen or pencils on the paper for making notes, or stick pictures, photos or whatever you like inside!
In fact, every notebook is unique, as interspersed in the pages you will be able to find traces of small leaves or flowers that were accidentally incorporated during the paper-making processes!
The leather cover is also from sustainable sources and has been cured, tanned and embossed, all by hand, no automated machine used at all. Finished off with a beautiful antique-style metal lock.
All these notebooks are made by a specially selected village community in really poor village in Rajasthan, India — the people who make these sometimes manage to survive on just US$10 a month!
So every product you buy will help someone put food on his/her table. If you would like more than 50 pieces, I can let you have a special wholesale quote.
Size: 100 x 130 x 20mm ; 50 g
Colours: dark green, navy blue, brown and ochre
Price: US$20 (UK and Europe £13)
Shipping: US$8 USA/Canada          UK/Europe £6
Payment: Paypal, NOCHEX, Google Checkout, online banking direct bank transfer. I can accept cheques also if you are in Canada or the UK
Contact: please use the form below to contact me